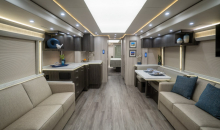 28 April 2021
Professional Golfer Bubba Watson Chooses Marathon Coach For His Home Away From Home On Tour And Beyond
April 28, 2021, Coburg, Ore. — Professional golfer Bubba Watson took delivery of his quad slide Marathon coach in April, sharing the news with his followers on Facebook, Instagram and Twitter. "I never really considered getting an RV until a few years ago," said Watson. "Wish I had done it sooner. It is so much nicer than I imagined. I used to worry if my hotel room would have a comfortable bed or a funny smell. Not anymore. With my RV, I know exactly what to expect at every tournament, and it is really nice. It's easy to see why so many people think of RVs as their home away from home, but like a lot of people I didn't really understand until I gave it a try." Marathon Coach sales representative Kasey Hess and Marathon's design teams guided Watson and his wife Angie through the tailoring process. "The Watsons were so great to work with," said Hess. "Creating a 'home on tour' for Bubba, Angie and the kids became a great project. Initially we were going to build a bunk coach like they had before, but after working with our engineering manager Jay Graham, they decided that the sofas that fold into beds would be a better fit for their needs."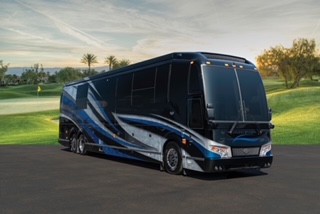 Although it was Hess who sold Bubba his new Marathon, it was Lee Pharris, owner of Pros Home on Tour, who introduced him, and plenty of other professional golfers, to the benefts of the luxury RV lifestyle. He frst convinced Watson and his family to stay at Fort Wilderness at Disney during the Arnold Palmer International. Not surprisingly, the service was a hit. "I remember Bubba, early on, was going on about how he loved it," said Pharris. "I saw him one time when he'd just fown in; he only had a backpack and clubs. I asked, 'You got anything else?' He said, 'No, man, this is all I need; everything else I need is on the bus.'"
Watson, his wife and Marathon Coach interior designer Brenda Kraft designed his interior together. "The challenges that come with an RV are quite diferent than residential design," said Kraft. "We have years of experience making such a small space feel larger … scale is everything! In such a limited space, every choice matters. If it isn't thought out thoroughly, you quickly have a lot of visual noise from too much pattern, line, color, etc. going on. Knowing where to place eye-catching elements and where to use a 'quieter' material is so important … you have to be more careful not to overwhelm. Frankly, it takes a judicious eye and experience to walk the line between 'too much' and 'not enough' when every fabric, leather and tile in the world is at your disposal."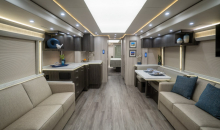 People can see the interior and exterior for themselves when they visit Watson's or Marathon's social media accounts. "Bubba was excited to design the paint," said Hess. "He wanted to match his minor league baseball team colors – the Pensacola Blue Wahoos – and include something very unique ... that's where the spiked wheels came in. They were both so fun to work with!"
Marathon's one-of-a-kind coaches have been featured on hit shows and the big screen ranging from "Extreme RVs" and "This is Us" to "The Last Man on Earth" and the "Transformers" franchise. Marathon's luxury bus conversions are considered the coach of choice among many discriminating travelers. Each motorcoach is planned by a team of engineers, handcrafted by expert craftspeople and interior designers.
"Bubba has had an extraordinary career and it's terrific he and his family are enjoying the comfort and convenience of the RV lifestyle on the tour," said Steve Schoellhorn, Marathon Coach, Inc. president and owner. "We're thrilled to welcome the Watsons into our family."
The world leader in luxury bus conversions with locations in Oregon, Texas and Florida, this family-owned company has produced more than 1,300 motorcoaches since 1983 for customers across the globe.
###
Marathon Coach, founded in 1983, is the world's largest and most experienced luxury bus conversion company. Over the past two decades, Marathon has grown its business by producing innovative, quality coaches, as well as possessing an unwavering commitment to after-sale personalized service. The company has produced and sold more than 1,300 custom bus conversions worldwide, by far an industry record. Marathon provides service support to their valued coach owners at their sales and service facilities in Oregon, Texas and Florida. For more information about Marathon coach, Inc., please call 800-234-9991 or visit the company's website at www.marathoncoach.com.