All Roads
Have LeD
To This
The All-New H3-45
Redesigned
passenger
experience
For nearly a century, Prevost has been driven by a relentless commitment to excellence at every level.
That's why we strive to deliver the ultimate ride for passengers, drivers, and your peace of mind, every time. Now, that commitment has delivered the next heir in our strong lineage: The redesigned H3-45. Revamped, remastered and revitalized, this is the ultimate ride, refined.
Ultimate power &
fuel efficiency
Powerful, efficient and clean
The all-new H3-45 offers our sleekest profile with added benefits. Including 5% greater fuel efficiency, a nearly 50% reduction in wind noise in the driver area, and an overall smoother ride for everyone. Next generation Volvo D13 engine runs cleaner, providing fuel efficiency improvements. Powerful, best-in-class torque at low RPM.
12%
greater fuel
efficiency
6%
cleaner than EPA requirements
Exceeding your expectations is a passion
All-new, full-color instrument cluster offers a convenient, centralized view with digital information at a glance. New luggage bay door dash indicator pinpoints any door that remains unsecured. Designed with a focus on ergonomics, our fully adjustable steering column promotes greater driver comfort, and reduced fatigue.
40%
brighter LED
headlights
Adaptable
driver environment
An optimized
passenger experience
Exclusive comfort and style
The redesigned stair comes equipped with an updated handrail design, a larger, curved entranceway, and 300% brighter lighting. Our reimagined interiors provide better views, with fewer obstructions, thanks to an all-new window layout. Redesigned interior lighting with customizable RGB lighting options, provide an overall better passenger experience (includes Cleaning Mode to fully illuminate the cabin, for more efficient interior detailing). Prevost's Cloud One seating combines style and comfort with uncompromising safety.
Redesigned
spacious cabin
50%
brighter cabin lighting
Luxurious
Cloud One Seating
The All-New H3-45: What's the industry saying?
"I think the level of change greatly reflects the level of anticipation, and I think they hit the nail right on the head. It's right on brand. It's contemporary and it's beautiful."

Sean O'Meara
Shamrock Charters
"I'm most in awe with this 12% in gains in fuel economy. That is going to put money back in our pocket instead of giving it away. And with that new curved front end, not only going up as well as around, it's just ingenious what they did with that."

Sander Kaplan
A Candies Coachworks
"That's what makes us proud to have Prevost, because of the fact that they're always there to help, in any problem that we have, with customer service."

Robert Saucedo
Carreras Tours
"The things they've done for the mechanics, the things they've done for the driver, this is next level stuff. You can't compare this to the other brands right now. They're going to have some catch up to do."

Joseph Gillis
NW Navigator Luxury Coaches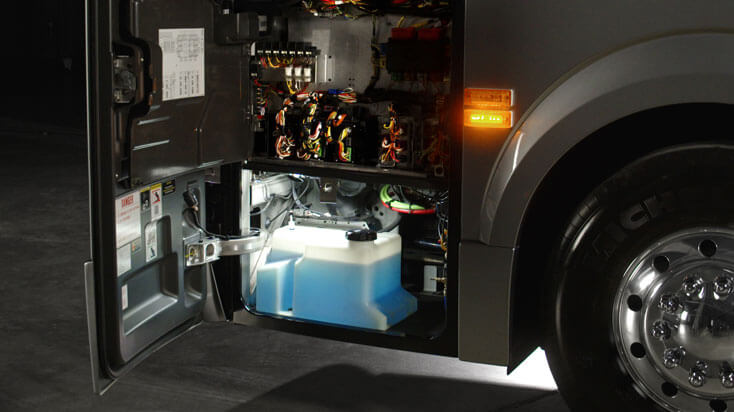 Updated access points
Access to key components has never been easier. Driver side access door is 13% wider with additional improvements to protect the front junction box. A front access panel has been added to provide easy maintenance of key components assuring uptime and maintenance efficiency.
Revolutionizing the
driving experience
Standard
56 Standard seating

45' Length, overall

314" Wheelbase

102" Width, overall

146" Height, overall

77" Floor-to-ceiling height

460 Ft3 underfloor capacity

Cloud One exclusive seating

LED headlights

Volvo D13 Engine
Optional
Perimeter lighting

Prevost Driver Assist

Back-up camera

360 surround cameras

Premium infotainment and sound system

Enclosed parcel racks

eMirrors

Auxiliary heater

RGB cabin lighting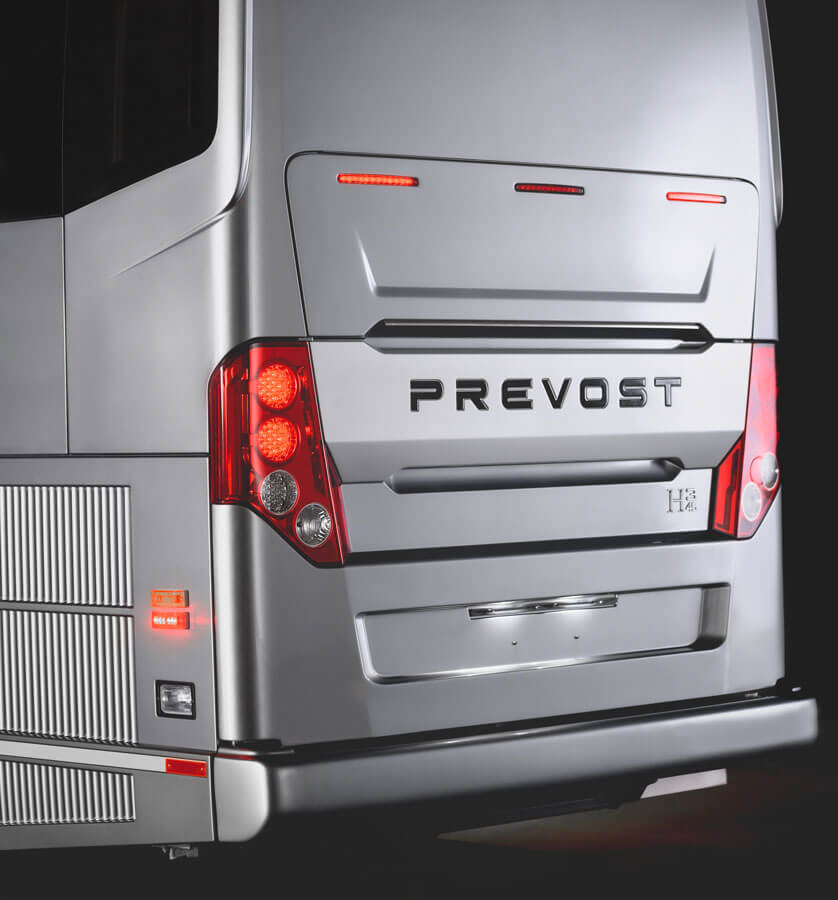 H3-45
Highlights

Aerodynamic improvements offer up to +12% fuel economy
Aerodynamic improvements offer up to +12% fuel economy
Wider and more reliable driver blinds
Wider and more reliable driver blinds
Powerful and efficient driver area HVAC
Powerful and efficient driver area HVAC
Driver visibility improved by reducing front corner pillars
Driver visibility improved by reducing front corner pillars
Elegantly designed dash with improved intuitive driver display
Elegantly designed dash with improved intuitive driver display
GPS system, surround and back-up camera views integrated into entertainment screen
GPS system, surround and back-up camera views integrated into entertainment screen
Two long wiper blades for better driver view
Two long wiper blades for better driver view
Aerodynamic mirrors and optional eMirrors
Aerodynamic mirrors and optional eMirrors
Adjustable and ergonomic steering wheel with intuitive fingertip controls
Adjustable and ergonomic steering wheel with intuitive fingertip controls
LED headlights for 60,000+ hours
LED headlights for 60,000+ hours
Front Access Panel for improved maintenance access
Front Access Panel for improved maintenance access
Newly-designed electric entry door
Newly-designed electric entry door
Wide, curved stair entry with additional lighting
Wide, curved stair entry with additional lighting
Volvo D13 engine OBD 2022 provides up to +2% fuel economy
Volvo D13 engine OBD 2022 provides up to +2% fuel economy
Improved HVAC air distribution
Improved HVAC air distribution
Updated passenger PCU controls
Updated passenger PCU controls
New interior lighting for improved customer experience including cleaning mode
New interior lighting for improved customer experience including cleaning mode
Customizable interior lighting in six colors
Customizable interior lighting in six colors
Passenger views improved by new window layout
Passenger views improved by new window layout
New parcel rack for space and reliability
New parcel rack for space and reliability