Keeping the Show on Schedule
X3-45 VIP Entertainer
Strongest
platform to fit every need
100%
customizable and adaptable
Largest
aftermarket support
It Starts with
the Platform
The Music Industry's Choice
Prevost entertainer coaches continue to be the music industry's #1 choice. Tour managers can send their performers and crew on the road in comfort, luxury and style. They will arrive rested, refreshed and ready to hit the stage. A Prevost entertainer coach is designed with the tour life in mind - from ample storage space, extra high interior ceiling height, an integrated stainless steel platform for a quiet and smooth ride, and the signature Prevost safety features for peace of mind on the road.
Quiet
eliminates road vibration and engine noise
Safe
optimal passenger safety
Maximum
storage & interior heights
Built for Touring, the Way You Want It
Traveling and living in a Prevost is luxuriously comfortable and relaxing because a Prevost entertainer coach is designed and built to perfectly suit the individual needs of touring entertainers. Prevost entertainer conversions are built to provide incomparable durability and reliability; for you and your performers, touring in a Prevost is an experience in excellence.
100%
customizable interior
Flat
floor for maximum flexibility
Partner
with top converter companies
Service Support Wherever You Are
Unwavering in our commitment to deliver the ultimate aftermarket experience to entertainers and operators across the U.S. and Canada, Prevost has built the largest service network in the coach industry.  Our network includes strategically located Prevost Parts & Service Centers strategically located throughout North America as well as more than 170 certified service providers in Volvo Trucks' North American network.
Largest
aftermarket service network
24/7
service and tech support from PASS
175+
certified service providers
"When we were looking at our options for a mobile marketing unit we were originally looking at trailers, sprinter vans and trucks that could be customized to fit our companies needs. However as we continued down the process we realized that the creativity and customizations we were wanting were not going to be possible. When we happened to stumble across Prevost and their customizable platform of their motorcoaches, our creative ideas were met with a "sure we can make that happen". That is exactly what we needed to hear to finally pull the trigger on our unit.

Meredith F.
Mobile Marketing Coach
"When it comes to driving a tour bus, Prevost is the top dog. We're on the road most of the year and our bus is truly our home away from home. Not only is it comfortable and full of amenities we appreciate while being away from our homes, but as a driver I can speak to how great it is to handle over the road. As we head out overnight to the next gig, the crew can sleep easy because the ride is so quiet and smooth. Once you drive a Prevost, you can't settle for anything less."

Adam A.
Entertainer Driver
"Our executive motoroach gives us the ability to be at an event with our clients and have a private, luxrious and brand-conscious space which is irreplaceable to our company. We are able to host our clients and provide incredible hospitality, as well as have the ability to conduct meetings and conference calls in a professional setting."

Jason D.
Executive Motorcoach
Standard
State-of-the-art soundproofing

45' Length, overall

334" Wheelbase

101.5" Width, overall

143.625" Height, overall

91.5" Floor-to-ceiling height

Prevost Beam reinforcement for factory installed slide-outs
Optional
Factory installed slide-outs

Fixed, Electrical Awning or Sliding

Prevost Driver Assist

Back-up camera

360 surround cameras

eMirrors

eMirrors optional

Trailer Air Brake connection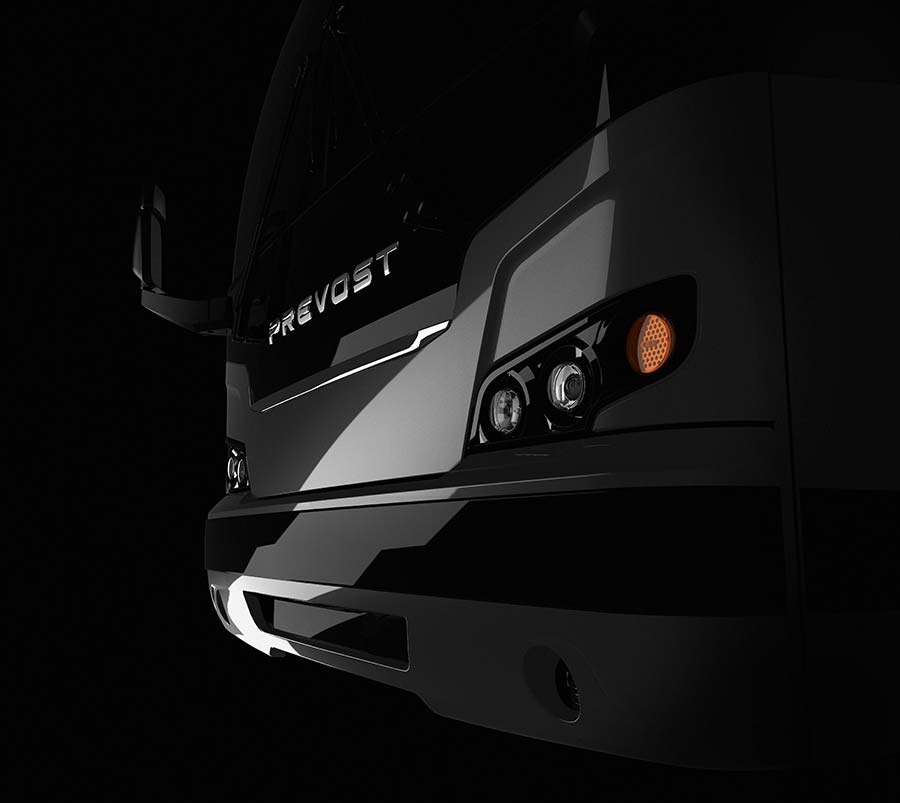 X3-45 VIP
Highlights

Electronic Stability Program (ESP) – improved stability on adverse road conditions 
Electronic Stability Program (ESP) – improved stability on adverse road conditions 
Prevost AWARE Adaptive Cruise Braking 
Prevost AWARE Adaptive Cruise Braking 
Abundant under floor storage 
Abundant under floor storage 
Independent suspension system for superior handling 
Independent suspension system for superior handling 
Volvo D13 engine exceeds EPA emission regulations for clean air and increased fuel economy
Volvo D13 engine exceeds EPA emission regulations for clean air and increased fuel economy
334.5" wheelbase – longest wheelbase in the industry
334.5" wheelbase – longest wheelbase in the industry
Tallest floor to ceiling height at 91.5"
Tallest floor to ceiling height at 91.5"
Patented Prevost beam frame reinforcement for extra safety and smooth ride 
Patented Prevost beam frame reinforcement for extra safety and smooth ride 
State-of-the-art soundproofing
State-of-the-art soundproofing
Classic Prevost chrome paneling for a timeless, modern and clean look
Classic Prevost chrome paneling for a timeless, modern and clean look
Prevost unique power management system increases battery life and vehicle's power usage
Prevost unique power management system increases battery life and vehicle's power usage
Prevost iconic stainless steel structure for optimal passenger safety 
Prevost iconic stainless steel structure for optimal passenger safety