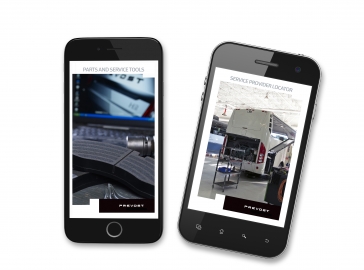 Prevost Service Locator Mobile App
The Service Locator Mobile App allows users to find the nearest Prevost Service Provider in North America with a simple touch of a smart phone or other mobile device. The app features detailed information about our extensive network of service centers and 165+ Prevost-certified Service Providers throughout North America. No matter where you are on the road, you can find the service provider that is nearest your current location, or you can search for a provider by state or province. The app is available in English, French and Spanish versions. Mobile device users can download the app for free at iTunes or Google Play.
PREVOST TOOLS MOBILE APP
The Prevost Tools app puts access to many Prevost Service tools all in one handy application. From any mobile device such as Apple iOS or Android phones and tablets, the user can link to wiring diagrams, pneumatic diagrams, technical manuals, driver's guides and service bulletins for any Prevost or Volvo motorcoach. The app also provides links to Prevost online warranty services, Prevost Liaison telematics system, and online parts ordering. Users can connect to the Prevost Merchandise website and Prevost Diecast Model website as well. In addition, the app contains a gallery of seated coach and motorhome images which can be downloaded or set as wallpaper for the mobile device.
DELIVERYTRACK APP
Prevost has developed a new easy-to-use app for smartphone application called DeliveryTrack. DeliveryTrack is a convenient tool for Prevost owners to take photos which show the time, date and place where the photo was taken. The photos can be used to support a claim, a delivery, or provide photographic assistance to a service team member. After the photo is taken, it can be sent to a manager or service team as a reference, creating a seamless and efficient communication process. The App is available in English, French and Spanish.