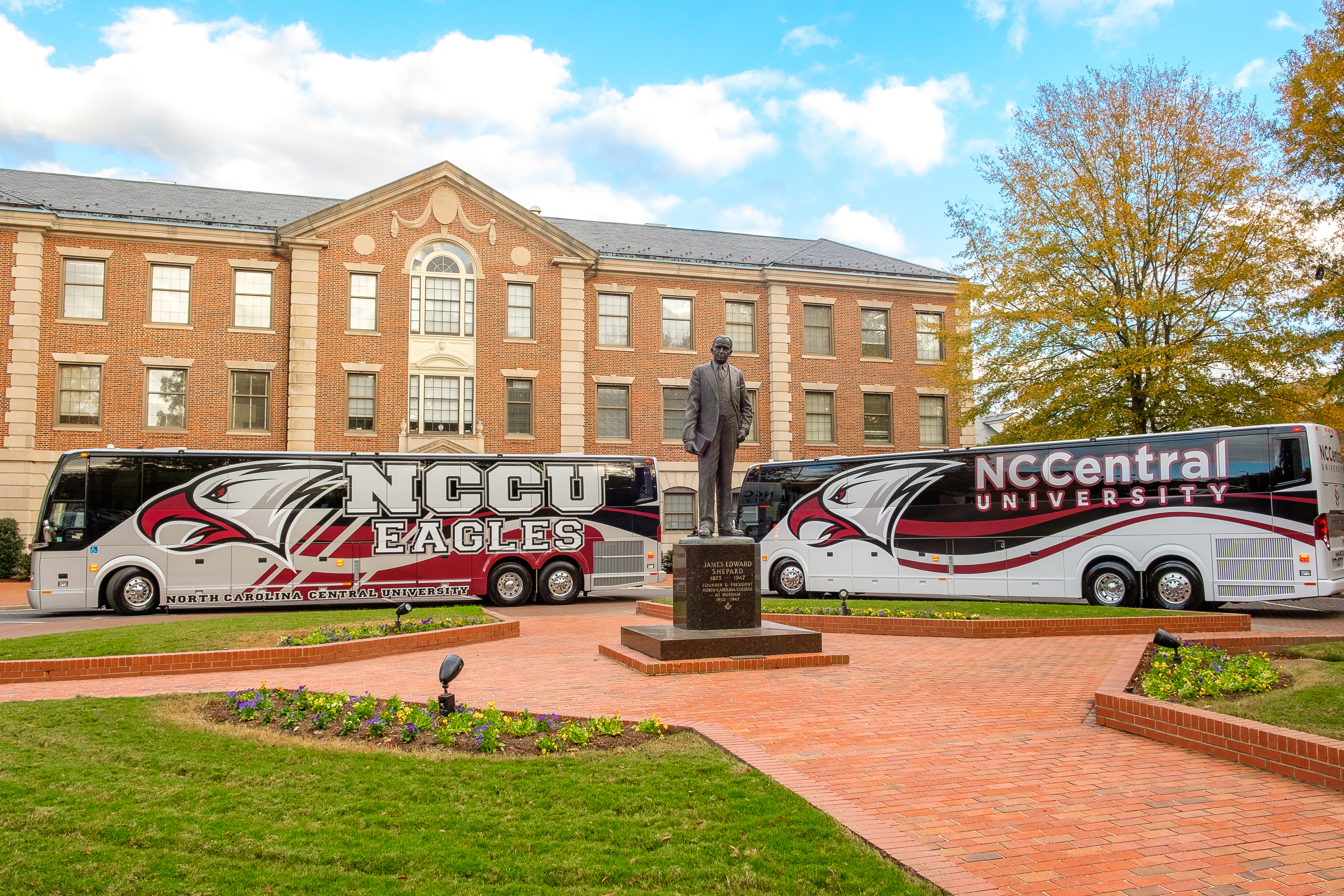 8 December 2020
Nccu Takes Delivery Of Two Prevost H3-45 Coaches
(December 8, 2020, Ste. Claire, QC) Prevost announced North Carolina Central University (NCCU) in Durham, NC, has taken delivery of two 2020 H3-45 coaches to be used for student transportation. 
Freshly wrapped with eye-catching NCCU Eagles graphics, the coaches arrived in style on the beautiful NCCU campus at the Shepard Administration circle where they were met by socially distanced faculty and staff of the esteemed university.
"We're thrilled to introduce the coaches to our student body," said Dr. Johnson Akinleye, chancellor of NCCU. "We trust Prevost to provide a safe ride for our students, as well as a quality vehicle we can count on."
The coaches are equipped with Prevost Driver Assist™, which fully integrates radar, camera and brake technologies for motorcoach applications. The data from these technologies works together, gathering and sharing information, functioning simultaneously to create driver assistance aimed at reducing incidents and lowering operational costs.
"The coaches will be used for student transportation of all kinds," said Phillip Vereen, transportation director for NCCU. "From student government events to athletics, the coaches will provide a safe, comfortable ride for students, faculty and staff alike."
In addition to Prevost Driver Assist™ for collision mitigation, the coaches also feature Prevost's surround camera system for enhanced driver visibility, perimeter intelligent loading and navigation lights.
"We are honored to partner with NCCU," said Jay Snead, regional sales manager for Prevost. "The luxury spec'd H3-45 touring coaches offer the most advanced safety options to provide drivers and passengers the ultimate peace of mind."
For increased passenger comfort and productivity, each coach is also equipped with the ICOMERA Wi-Fi and entertainment system. "With ICOMERA onboard, students can keep up with their studies while traveling to and from their destinations," said Snead.  
The coaches made their maiden voyage to Campbell University on November 25, 2020 with the NCCU Lady Eagles Basketball Team. The Lady Eagles defeated Campbell 70 to 65 in double overtime, making the journey a victorious one.  
(Photo: North Carolina Central University Office of Communications and Marketing)