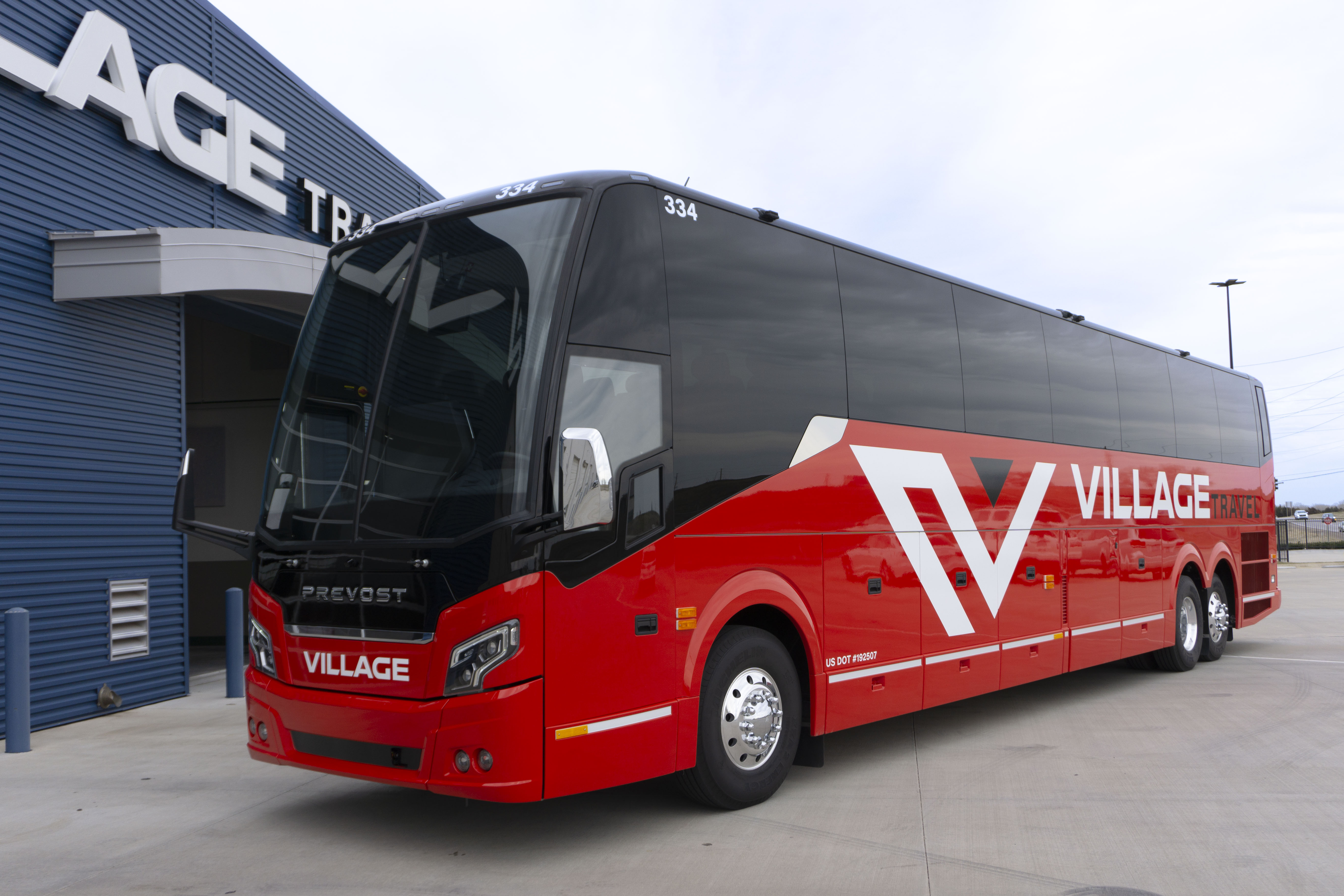 25 April 2023
Long-time Prevost Partner Receives First All-new H3-45
Shortly after the redesigned Prevost H3-45 was unveiled, it started to appear on roads across the country. In late January, Village Travel was the very first tour operator in the United States to take delivery of an updated H3-45.
"We've owned several H3-45s since 1997. We heard the new H3-45 was coming and placed an order in advance because we're confident when Prevost makes changes they're going to be positive," said Jeff Arensdorf, owner of Village Travel.
Village Travel is a family-owned business based in Wichita, Kansas, that has seven locations, more than 160 coaches and 449 employees. Led by Arensdorf, the company serves the charter, group tour and entertainer markets and also operates a full-line travel agency. In 2022, with offices throughout the Midwest, Village recorded 9.2 million miles driven, 10,805 charter groups served and 6,295 tour passengers hosted.
In the coming months, Village is scheduled to receive 11 more of the next generation H3-45s to add to its fleet.
"The Prevost coaches are well engineered and the Volvo engine is reliable and has the torque and power we're looking for," said Arensdorf. "We are in the middle of the country so our seated coaches go a long way. Because we travel almost everywhere – from Canada to New York to Las Vegas – reliability and service are extremely important to us."
As each H3-45 arrives, Village applies its signature branding and introduces its drivers to the motorcoach. That's important because Prevost made substantial changes to the driver area, including an intuitive dash with automotive-styling, a full-color digital and analog instrument cluster and push-button start.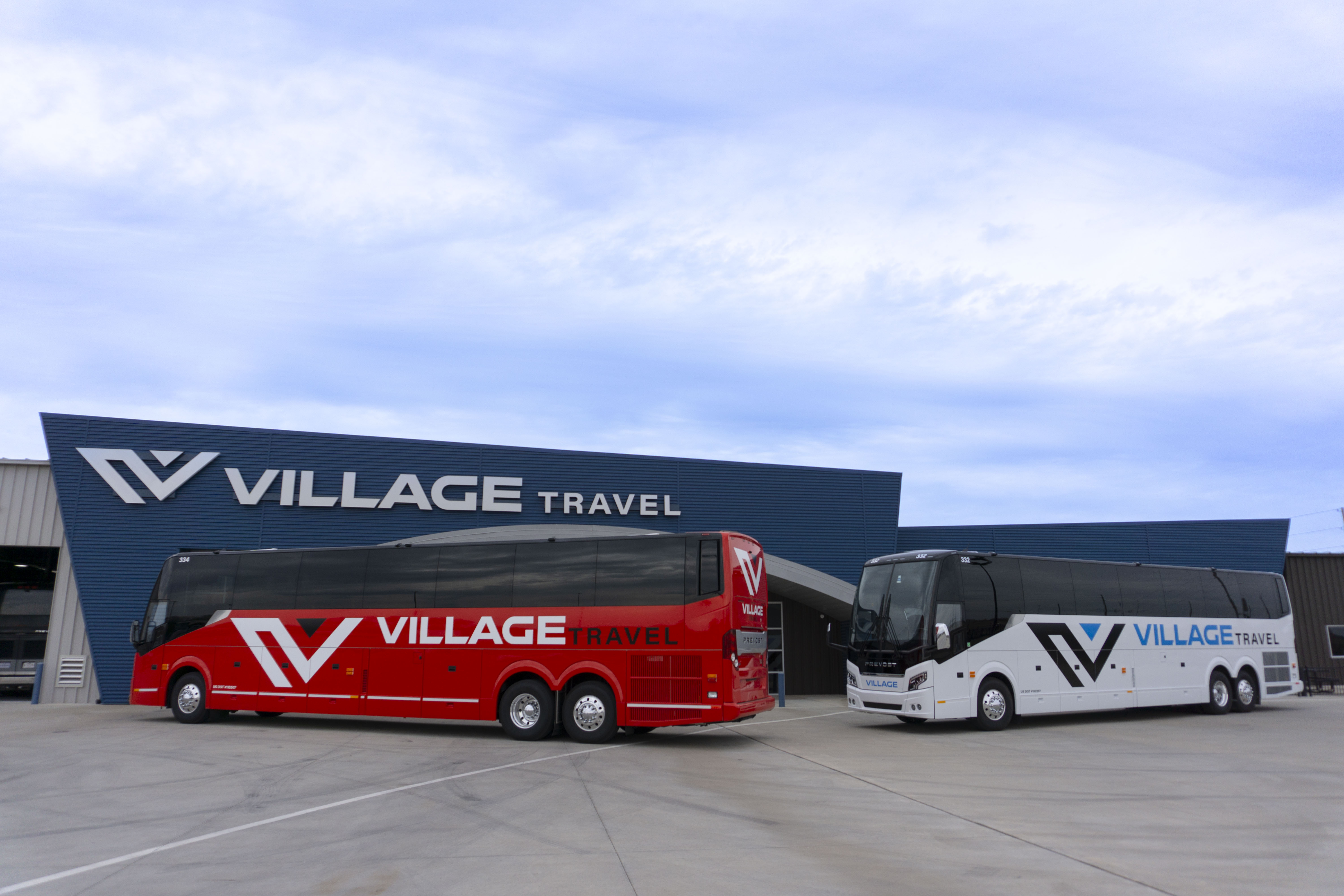 "It drives almost like a fine automobile. The mirrors are larger and the dashboard is much easier to read. The information screen is very easy to navigate and to learn," said Ralph McKay, a driver who's been with Village Travel for 14 years. "In Kansas, we drive in very windy conditions. I've always liked the way Prevosts handle in the wind but the H3-45 is the cream of the crop. You can't even feel the wind." 
Another change is apparent upfront. For easier boarding, the entrance has been enlarged, there's now 300% more lighting and an updated handrail. Plus, there are other passenger enhancements.
"We went with the Cloud One seats from Prevost. We had a ton of our team sit in them and they're very comfortable," said Arensdorf. "And, while it's a little thing, it's a big deal to us that passengers can now turn off their individual speaker over their seat. That really makes things better for our customers and our tour directors."
Prevost's Cloud One was introduced in 2021 and combines form, function and style for passenger comfort. Its ergonomic elements include lumbar support, an adjustable seat pan and a headrest and seat belt that can be positioned by each individual passenger. The seats also have a striking design. They're made from premium materials and are accented with attractive stitching and piping.
"Overall, the H3-45 looks and feels a lot more modern. It's set up for years to be relevant in terms of style and functionality," added Arensdorf.