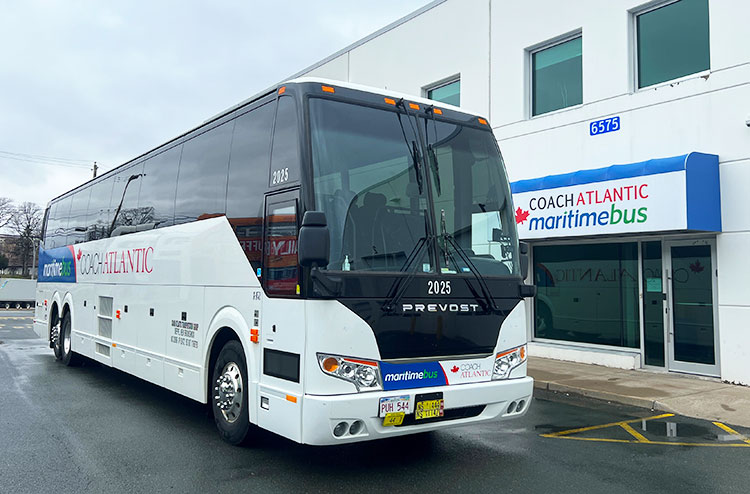 11 May 2022
Coach Atlantic Maritime Bus Signs Multi-Year Contract for 50 Prevost Coaches
STE-CLAIRE, QC (May 11, 2022) Prevost customer Coach Atlantic Maritime Bus, a leading provider of passenger transportation in Eastern Canada, has signed a contract for 50 Prevost H3-45 coaches over the next five years. The commitment signifies a strengthened partnership between the two companies, and the much-anticipated restart of the motorcoach industry in Canada following significant impact due to the pandemic.
"Both of our companies are truly committed to the bus industry," said Mike Cassidy, owner of Coach Atlantic Maritime Bus. "We believe in 2022 and the future. Covid slowed us but did not stop us! This shows good business and strong relationships prevail."
With three locations on the east coast and 515 employees, Halifax, Nova Scotia, Moncton, New Brunswick and Charlottetown Prince Edward Island, Coach Atlantic Maritime Bus is the second-largest family owned and operated motorcoach transportation company in Canada. The group boasts "the most diverse fleet in the Maritimes" and offers transportation to meet their customers' unique needs. Coach Atlantic Maritime Bus provides services the following markets: intercity line run services, group charters, multi-day tours, cruise ship shore excursions, municipal transit, and school bus routes.
"Prevost has a strong team of professionals supporting a quality-built product," said Matthew Cassidy, president of Coach Atlantic Maritime Bus. "This allows operators like us to provide safe, reliable, comfortable service to our customers."
Over the next five years, the 50 new Prevost H3-45s will be integrated into Coach Atlantic Maritime Bus's premium fleet primarily used for multi-day tours and long-distance trips. The coaches will be equipped with the new Cloud One seating, which is exclusive to Prevost, as well as the standard safety options and expansive support network Prevost is known for.
"We are excited for the future and grateful for the Coach Atlantic Maritime Bus team's confidence in Prevost," said Francois Tremblay, president of Prevost. "We're looking forward to continued growth and seeing these new H3-45s with the Coach Atlantic Maritime Bus brand on them!"
In preparation for the first delivery, the vehicles are already in production at the Prevost manufacturing plant in Ste-Claire. "Prevost employees always take great pride in the quality of their work," said Serge Gonthier, Prevost regional sales manager. "But when they have the opportunity to work on a local order like this one, there is a little something added to their pride." Those in the Maritimes can expect to start seeing the Coach Atlantic Maritime Bus-branded Prevost coaches on the road as early as June 2022.